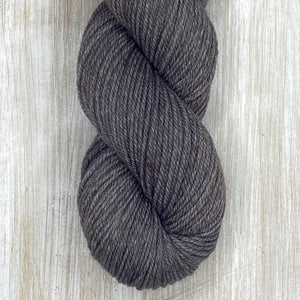 60% AMERICAN SUPERWASH MERINO | 40% DOMESTIC NON SUPERWASH MERINO
Custom spun, at out local family owned fiber mill, and dyed in house at our studio, ROAN DK is an unprecedented blend of American Superwash Merino and Domestic Non Superwash Merino.  The precise percentage of the fiber blend creates a yarn with the best qualities and traits of both fiber types, and none of the worst.
It will not grow overtime once blocked, it is suitable for next to skin wear, while still offering the grip for colorwork and steeking, it is a plump 3 ply that is excellent for cable knitting, it takes color like a dream, and it is a non pilling yarn with the proper care.  
*It is highly recommended for all hand knit and crochet garments, to hand wash only*