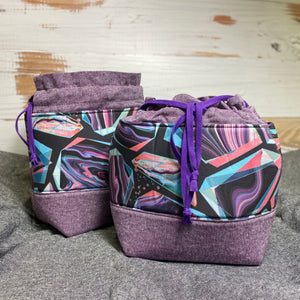 These are our Primrose Yarn Company exclusive drawstring bags made by Kelsey Stephens.  
This is an extremely sturdy bag, made with high quality, thick foam stabilizer, high quality cotton fabric and cotton blended fabric, that allows the bag to stand on its own, or be thrown into a larger purse or tote.

The bag has a wonderful cotton drawstring closure, which can be pulled tight and knotted up into a bow, so that none of your items fall out.


It is perfect for small sock projects, shawls and even small sweaters.
The bag measures (Approximately):
13.5" Across  x  5.5" Wide on base  x  11.5" Tall from bottom to top
*DRY CLEAN ONLY FOR ALL BAGS*

*WE DO NOT ACCEPT RETURNS ON PROJECT BAGS*